Following on from our blog post about our journey competing for Gospel Choir of the Year (Blogs 1 – 5 can be found here……http://oxfordgospelchoir.co.uk/bbcgospelchoiroftheyear)
BLOG POST 6
THE NIGHT BEFORE THE BIG DAY!
The excitement is rising….! Jules heads to London today to meet all the team and have a first taste of singing on the stage with the other 4 soloists for Oh Happy Day! It's a long evening but great to feel the excitement in the place and see all the backstage goings on!
THE BIG DAY!
Sunday 5th November 2017. More than fireworks went off in Westminster on this day, that's for sure!
Part 1 – rehearsals and run throughs
First off – an OGC road trip and what better way to warm up, than sing a few songs in preparation for our Christmas concert and with a steward Pete Waters, it all went very smoothly!
When the Team OGC bus arrived, the excitement (nerves??) was palpable. Sabrina and the film crew were there bang on time to welcome us. "Don't worry" they said. "You're gonna be GREAT" they said. "Now can you walk off the bus singing a song while we film you"? (I think we collectively crossed fingers that that would not make the final edit).
Then we got there. The venue. The gobsmackingly awesome space that is Methodist Central Hall, Westminster. We were shown our space in the (massive) green room by our very own personal runner (ooh get us!) and we set about getting ready while the other choirs made their entrances. The biggest question was 'when on EARTH do we get into our uniforms'? Mostly of concern to the ladies, whose cardigans – although beautifully bold and bright – creased like no one's business. Look out for shots us stooping over our make shift ironing board – the film crew took rather a lot of footage of that fun activity. Needless to say, we left getting into our uniforms til rather late, then came the massive rush before we were due on stage for soundcheck. Nothing like a bit of pressure to get the adrenaline going!
As the other choirs arrived there were the customary whispers of 'oh they look good', 'I wonder what songs they're singing', 'there's so many of them'!  But the atmosphere was really positive. Buzzing, in fact.
And so, one by one, each choir took to the stage for a technical rehearsal. If it didn't feel real before, it certainly felt (sur)real now! Lights! Camera! Action! A floor manager you wouldn't mess with, a presenter whom we all know and love, and an empty sofa where the judges would sit. Did we mention the judges? Well it is a competition after all.
Tech run-throughs complete…now it's time for the audience to arrive, and for us to get REALLY REALLY NERVOUS!
Part 2 – the 'live' recording!
Getting ready with David Grant:
So here we are. Warmed up and desperate to get out there while simultaneously asking ourselves 'what on earth have we let ourselves in for'?
The judges were sitting on their sofa, pens and clipboards poised.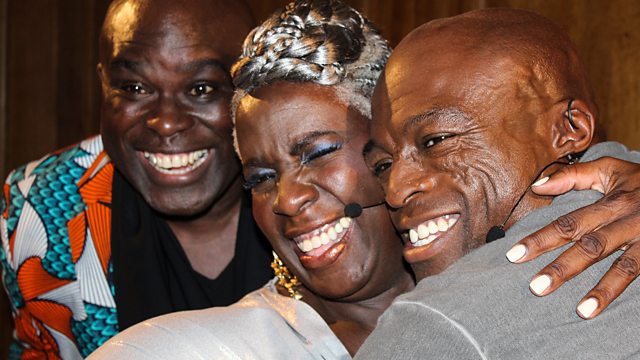 Judge 1: Karen Gibson, a good friend of OGC. She knows us. She also knows our faults. But will she be impressed by how far we've come in this process?
Judge 2: Muyiwa Olarewaju, Gospel leader extraordinaire and veteran GCOTY judge. He's seen it all right? Will he see how hard we've worked and how much we love what we do?
Judge 3: Seal, Kiss from a Rose, Killer, The Voice, the actual SEAL. Siân genuinely fell off her chair when she found out she would see him in the flesh. What would he make of us?
And suddenly: "Ladies and Gentlemen, please welcome onstage The Oxford Gospel Events Choir"!
**Cue rapturous applause**
And I mean rapturous applause. Deafening. Spine tingling applause.
I just want to take a moment here to thank ALL those who came to support us at the recording. A few of us have been on a theatre stage before. We've all performed regularly with the choir and at charity events, weddings and even sung with Susan Boyle to her adoring fans, but I can honestly say that none of us have ever, ever felt so loved, appreciated and supported as we did that day. What we did, how we performed and the utter joy we felt on that stage is ALL down to you. Your cheers, shouts, whoops and banners made us realise that we'd already won, regardless of the judges' final decision. So thank you. Thank you from the bottom of our hearts you absolute heroes. Oxford Gospel Choir 4 eva <3
Anyway *wipes away tears of emotion*, back to the stage. We performed like never  before. And while I won't spoil the broadcast by telling you what the judges said, I can safely say that they were absolutely spot on, and our beaming faces will convey just how much we appreciated what we heard from three of the most experienced singers and performers in the industry. Special mentions to Fiona, Lizzie and to Jules for nailing their solos and to Fiona and Pete for their legendary conducting.
And then that was it. Both songs performed, judges' comments received, group song done and dusted and now all we can do is wait.
And now, ladies and gentlemen, the winner of the BBC Songs of Praise Gospel Choir of the Year 2017 is…
Don't be ridiculous – it's embargoed! You'll have to tune in on Sunday BBC1 16.15 to find out ☺